Town Olomouc
Welcome to Olomouc. The rich history of this city, the proud capital of the Margraviate of Moravia until the Thirty Years War, makes it a rarely preserved collection of architectural, artistic, and archaeological heritage. The city's heritage reservation is rightly regarded as the second most important in the Czech Republic, only after Prague. MORE ...
Recent historical and archaeological research even suggests that its uniqueness is based on a proven continuity of early Slavic, Great Moravian and late hillfort settlements, immediately followed by the city's status as a medieval royal city. Even today, the layout of the royal city forms the basis for the core of the city center.
With this guide book, we'd like to introduce you to Olomouc through its monuments, many of which transcend beyond regional and national importance. We'll mostly be emphasizing those which are freely accessible to visitors, either as freestanding sculptural monuments, open churches and chapels, or buildings open to the public. Olomouc is also a very progressive city with a modern university and a student body, as well as a cultural and tourist center with a rich variety of programs. We sincerely hope that each visit will entice you so much that you'll look forward to coming back. We want every visit to Olomouc to be a new and pleasant surprise.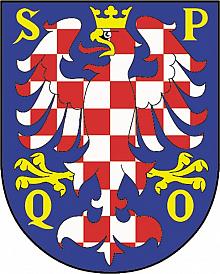 The Olomouc coat of arms consists of a red and white checkered eagle with golden armaments (beak and claws) on a blue background and the golden letters "SPQO" in the corners – Senatus populusque Olomucensis (the senate and people of Olomouc), an allusion to the supposed founding of the city by the Romans. A previous version of the coat of arms included an Austrian heart shield with chain and the ruling initials "FMT", derived from the Empress Maria Theresa and her husband Francis I of Lorraine for their successful defense against the Prussians in 1758. It was abandoned after the founding of the Czechoslovak Republic. The letters "SPQO" on the coat of arms were returned in 1993.  ... LESS
Current News

music

theatre

exhibition

festivity

festival

fair

sport

other